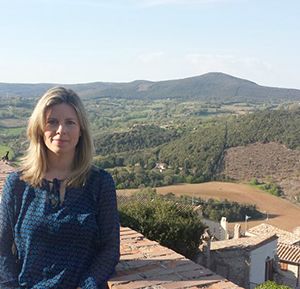 Cameron Barrett, founder of Italy by Design,
first came to Italy on a high school exchange program. During those two weeks in Tuscany, she developed a passion for the culture, language and people of Italy that determined the direction that her life would take from that moment on. As an undergraduate at Trinity College in Hartford, Connecticut, she double majored in Italian and French and spent semesters abroad in Rome and Paris. She was named President's Fellow of Modern Languages and Literature in 1994, and in the same year became a member of the Phi Beta Kappa honor society. After graduation, Cameron returned to Italy where she worked as an assistant site coordinator for the Trinity College Elderhostel Programs in Rome, Verona, Montecatini and Sorrento.
In 1998, she received her Master of Arts degree in Italian Language and Literature from Middlebury College. Cameron then moved to Rome and worked as Assistant Editor for Where Rome magazine, a monthly publication providing visitors with information on the best shopping, dining, cultural attractions and entertainment in Rome. In 2001 she became a member of the Italian Association of Journalists. Cameron was also the assistant editor and senior translator of The Gourmet Guide to Rome, published by Tourist Media S.r.l. (Rome) in 2000, and a contributing writer for City Secrets: Florence, Venice and Italian Towns, published by The Little Bookroom (New York) in 2001. In 2006 Cameron and her family moved to the hilltown of Amelia in Umbria. Ever since moving to Italy, Cameron has enjoyed nothing more than helping others experience the passion that she feels for her adopted home. Italy by Design allows her to do just that.