Imagine…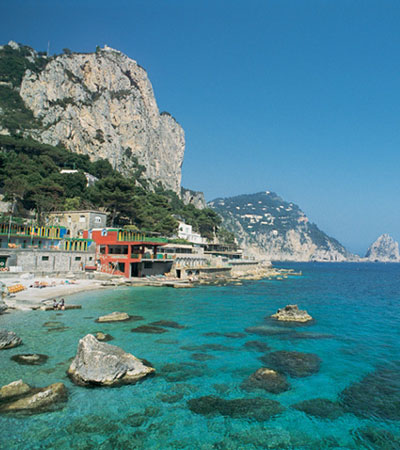 a 12-day trip combining the spectacular Amalfi Coast, the pulsating city of Naples and the area's renowned archeological wonders.
Imagine climbing a staircase through lush vegetation to discover the Mediterranean villa in Positano that will be your home for the next four days. After delighting in the spectacular view of the ocean from your room's private terrace, you take another staircase to the seawater pool and Jacuzzi. The next four days you are seen on the villa's private beach, in small local restaurants enjoying the fresh fish and limoncello liqueur, strolling through the coast's picturesque towns, shopping on the island of Capri and sailing along the shore in a fabulous boat.
After the peaceful tranquility of the Sorrento peninsula you move on to the pure energy of Naples, where accommodation awaits you in the chaotic yet thrilling historic center. The element of surprise that makes Naples so exciting is echoed in the apartment: from the outside, the newly-renovated Renaissance palace is solemn and historical, while inside, contemporary photographs, paintings and art installations dominate the impressive space. Your stay in Naples includes going on an Italy by Design "treasure hunt" of the historic center's artistic jewels, visiting the paved streets, impressive homes and frescoed walls of Pompeii with an archeologist, eating pizza where it originated, and attending an opera performance in the Teatro di San Carlo. The evening before leaving you stroll along the bay, observing the vivacious Neapolitans and realizing that over the past few days, you have been infected by their contagious zest for life. The zest for life that makes so many people imagine going on that perfect Italian journey.
Author: Cameron Barrett