Painting the Olive Harvest in Umbria, Italy – Fall 2014
October 31-November 12

Join experienced guides for an exclusive tour through the picturesque Italian countryside while painting with artist and instructor Hannah Ineson. Enjoy access to private estates, harvest festivals and special tastings.
Trip highlights include:
Annual olive harvest festival hosted by the town of Trevi
Accommodations in restored 16th century villas
Meals highlighting the fall harvest in Umbria
Painting and sketching in Umbrian olive groves
Studio painting with personalized guidance
Day trips to Assisi, Orvieto and Spoleto
Private tours of olive mills to view pressings
Sampling of just pressed "new oil" paired with local specialty foods
Weekend finale in Old Rome
Itinerary
Friday, Oct 31 (Trevi)
Arrive in Rome; private transport to Trevi; walking tour and welcome dinner.
Saturday, Nov. 1 (Trevi)
8th Annual FestivOl, a two-day celebration of the olive harvest. Tours, art shows, special menus at Slow Food Umbria restaurants. Travel journaling through olive mills and groves.
Sunday, Nov. 2 (Trevi)
Final day of FestivOl. Visit Trevi's shops, enjoy travel journaling while wandering the farmers' market. Guided olive oil tasting hosted by the director of Italy's Department of Agriculture.
Mon, Nov. 3 (Amelia)
Travel to Amelia. Short studio session with instructor. Tour historic center.
Tuesday, Nov. 4 (Amelia)
Day trip to Assisi. Visit the famous basilica while journaling through this best-known of Umbrian hill towns. A good place for shopping as well.
Wednesday, Nov. 5 (Amelia)
Studio session with instructor. Optional day trip to Spoleto.
Thursday, Nov. 6 (Amelia)
Day trip to Orvieto for travel journaling. Visit the famous black and white cathedral with frescoes that were studied by Giotto before his work on the basilica in Assisi. Discover Orvieto's unique pottery culture featuring forms and painting designs that reach back to its ancient Etruscan heritage.
Friday, Nov. 7 (Amelia)
Studio session with instructor. Journaling during private tour of local Zanchi vineyard.
Saturday, Nov. 8 (Rome)
Leave Amelia and travel to Rome. Lunch at picturesque village en route to Rome. Walking tour of Forum.
Sunday, Nov. 9 (Rome)
Painting and journaling nearby Roman ruins: Colosseum, Palatine, Capitoline and Forum.
Monday, Nov. 10 (Rome)
Guided tour of the Vatican Museums and St. Peter's Basilica; lunch on the Janiculum Hill with time for journaling; walking tour of Trastevere.
Tuesday, Nov. 11 (Rome)
Borghese Gardens and Gallery; walking tour of the Spanish Steps and the fashion center of Rome.
Wednesday, Nov. 12 (Rome)
Depart from Rome.
About the Instructor
A popular workshop instructor, Hannah Ineson is also a fine watercolor and oil painter who finds inspiration in the landscape. She is also drawn to "vernacular architecture" that reflects the history and unique style of an area. Hannah will instruct in composition, color, value, and technique – but the real joy for her is to help you express your own creative voice.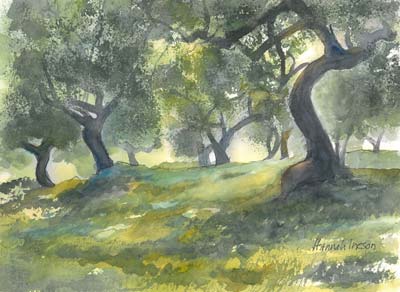 Born into an artist family, Hannah has shown her work in many juried and solo shows throughout Maine and Florida. She is a patient and gifted instructor with decades of experience in painting and teaching in Maine, Mexico and Florida. She has taught watercolor workshops with Elderhostel, with art centers and in private classes. Regardless of your prior exposure to painting, we know you'll be enriched and stimulated and, most importantly, you'll have a great deal of fun.
About painting supplies
A complimentary watercolor journaling kit will be provided, including paintbox, brush, water cup, journal of watercolor paper and more. The kit is most suited for use on the road and day trips. Studio painting will also be scheduled.
Author: Cameron Barrett